House of the Sacred Heart - Sœurs de la Charité
History
1851 : Founded in 1851, by Sister GELAS and 2 girls from Ghazir who wanted to devote themselves to teach. Sister GELAS rented a small place where she established a small class to teach children and keep them away from Protestants' influence. She received a financial donation from the "Ecoles d'Orient" and started the construction of a nursery ("crèche") where she received abandoned children from the age of 3.
1870 : Sister BILLY came to the House and was helped by two other nuns. The house consisted of classes of 175 students, a boarding school with 20 children, a clinic and a flourishing association "Children of Mary".
1956 : An annex to the school was established including: - A kindergarten - A free primary school - A clinic - A workshop
1975 : Vocational Diploma in Secretariat The objective of teaching this specialization is to prepare middle-talented students for jobs so that they could find work in the region and help out their families.
1977 : Kindergarten Teacher Diploma Taking care of children and teaching them is really an important thing, but it is also a very difficult task. Regardless of the events of the war, young girls were very interested in enrolling themselves in the new School for Kindergarten teachers. 33 young girls were accepted and started a four-year study program. The students should at the end of their studies present a BT1 and BT2 (Technical baccalaureate diploma - Section 1 and 2). The diploma has many advantages and career prospects. It also ensures training for young girls to help them find work easily.
1989 : The House was enlarged and came to include: - "Vierge Puissante", a free of charge school - A primary school - A complementary school - A Kindergarten - A home for orphans and children who have special social cases. - A home for young girls - A workshop for feminist promotion - Youth movements: Jeunesse mariale - Family assistance - A Clinic where 18 272 ill were treated
1996 : Two schools were established: - Secondary School - Tourism school Personnel : Sister Genevieve ABI-JAOUDI, a servant, Nuns and 10 accompanying nuns
1957 - INAUGURATION OF THE CLINIC OF "MALTA ORDER":
(Affiliated to the Maison du Sacré-cœur )
On Thursday 5th, 1957 was the inauguration of the new dispensary. The Nuns were responsible for the dispensary and took care of the ill and needy from the neighboring villages. They devoted themselves to help citizens since the foundation of the "Maison du Sacré-Cœur".
1990 -MEDICAL-SOCIAL CENTER :
The center was established to serve the sick, the handicapped and the displaced. 277 families (a total of 841 person) have been treated and cured in the medical-social center. Most of them were displaced persons who were received by the nuns and were offered shelter, clothing, food, work for parents, and education for children. Being a social clinic too, it offered help to newborn babies by offering them clothes and milk. The clinic has been cooperating with the Lebanese Red Cross in the treatment of severe cases: accidents, serious injuries. In 1984, the dental clinic was established with the help of the Malta Order, which offered all equipments. It is still functional today and is enhancing its activities since it is the only medical center in the region that offers almost fully free treatments. Devoted doctors treat in the center. In 1990, the center treated a great number of patients. It receives patients 5 days a week from 8:00 am to 12:00 pm for medical treatment, and from 8:00 am to 5:00 pm for dental treatment.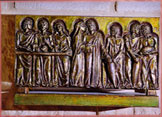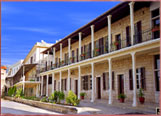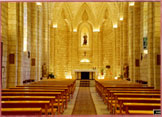 Inside View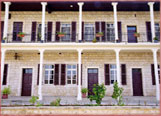 Monastry Building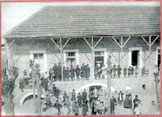 Old Picture of Monastry Building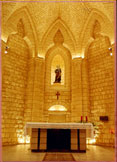 The Altar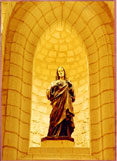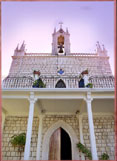 Outside View
Inside View