Our Lady of the Annunciation for Melkite Convent
The convent was established in 1730, upon the demand of several female worshippers from Aleppo who wanted to establish a convent in Lebanon in the Keserwan region near the Dominican fathers, not far from the Lazarist fathers' convent in Aintoura.
The Deacon "Al Zakher" helped those worshipers and their religious guide Father Peter Fromage (a Jesuit) to buy a piece of land from a notable Maronite Sheikh Moussa El Khazen.
They gathered money to buy the land from Aleppo notables and families donations, and in 1734 started the construction of the convent.

In 1737, ten worshipper-girls moved to the convent in Lebanon from Aleppo. After hallowing the convent on the name of Our Lady of Annunciation, problems started when it came to the foundation of the monastic religious life.
Worshipers wanted to follow the Salasian rules and ordinance they learned from the Jesuit fathers, but the Choueirit fathers wanted them to follow oriental rituals and rules of the Choueirit monastic order.Problems continued with Lazarist and Choueirit fathers who had many differences and led Lazarist fathers to convince the sisters to follow the rules of Saint Augustine and Saint Salasius and allowed them to eat meat and change their robe during the rest time.
Following that decision, the Archbishop Athanasius forbade the sisters to follow these rules. This led them to be divided between those who obeyed the decision of the Archbishop, and those who refused it.

The Holy Council of 1739 solved the disagreement and decided that the sisters should abide by the rules of Saint Augustine and the ordinance of Saint Francis Salasius until a new ordinance was set. The sisters agreed on that decision and considered it as a triumph for them. On January 3rd, 1746, the Holy Council declared the final rules by which the sisters should abide. In 1751, the number of sisters increased from 10 to 25.
The church was built with the convent in 1737 and enlarged later in order to receive a larger number of worshipers and visitors.It has a gallery at the same level of the first floor, where the elder sisters can assist the Mass without having to climb the stairs. Nowadays, the convent receives many sisters as well as worshipers who desire to consecrate their lives to God.
A new building was constructed for the Order's administration and a part of the building for the beginners.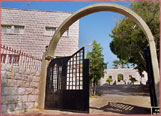 Outside View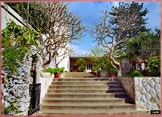 Monastry Entrance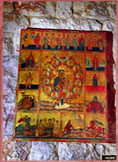 Icon of Holy Mary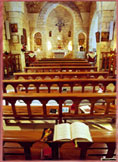 Church Inside View
| | | |
| --- | --- | --- |
| | | |
| The Altar | Inside View | The Extended Part of the Church |
| | | |
| Old Monastry Building | New Monastry Building | Monastry Building for beginners |