Oriental communities are traditionally built around temples or places of worship, which are edified during times of peace and prosperity. The construction of the churches is the result of stability within the Christian communities.
The Maronite group coming from the north settled finally in Zouk Mikael, with the construction of Saint Doumit church in 1728 with the help of Sheikh Moussa Ben Tarabay El Khazen.
The church of Saint Doumit had been linked physically and morally to the convent of the Lady of the Annunciation - El Khazen, until this connection was cut in 1903 when the citizens of Zouk refused to bury members of the Khazen family in their church, and asked to manage their church themselves in direct coordination with the archbishop.
In the old days, the church of Saint Doumit was designated as the "Cathedral".
This church is characterized by its typical Lebanese architecture, especially its high roof of stones decorated with stars made of stained glass that lights the church, and the ornamentation in piling and distributing the stones with its high cupola that embraces two bells supervising an open space surrounded by arcades.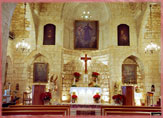 The Altar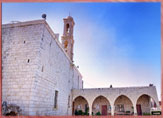 Outside View
| | | | |
| --- | --- | --- | --- |
| | | | |
| Inside View | Inside View | The Altar | Outside View |