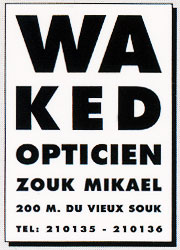 Address (Street, Building):
108, Main Road. 100m from the Old Souk.
Telephone:
+961-9-210 135 - +961-9-210136.
Mobile:
+961-3-.456982
Fax: Email:
mwaked@cyberia.net.lb
Website:
www.wakedopticien.com
Contact Person:
Mr. Maroun Waked.
G. Manager/Owner:
Mr. Maroun Waked.
Opening Hours/Day:
MONDAY - FRIDAY: 9am - 1pm / 2pm - 7pm
SATURDAY: 9am - 3pm.
SUNDAY: Holidays- Day off
Description:
OPTICAL SHOP, EYEGLASSES, SUNGLASSES, OPHTALMIC LENSES, COSMETIC LENSES, LENSES SOLUTIONS, OPTICAL ACCESSORY
Services: . ANYTHING RELATED TO THE OPTICAL FIELD

Products/Brands:
POLICE
ESCADA
GIVENCHI
LACOSTE
LIEVISSIMO
FRESHLOOK
ACUVUE

Specialities: personallised fiting & comfortable vision

Activities: WELLCOMING & SELLING...